Arlo Moehlenpah has had the privilege to teach in Bible colleges for over 40 years. He has taught courses in Bible Survey, Harmony of the Gospels, Acts, Pauline Epistles, General Epistles, Creation versus Evolution, Teacher Training, and Home Missions. It has been one of his greatest joys to observe his former students as they minister for the Lord in many nations. It is his desire through writing and conducting seminars to teach and inspire many more people who would never have the opportunity to attend his classes in Bible College. Jesus went about doing good, Acts 10:38; so should we. Thus the name Doing Good Ministries.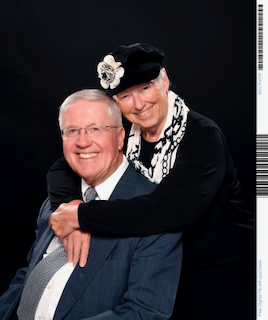 Jane Moehlenpah has assisted her husband with the layout work for many of Arlo's publications and computer presentations and in teaching the teacher training courses and seminars. She is an experienced Sunday School teacher with specialties including storytelling, teaching with audio aids, teaching with puppets and memory work. She also is an excellent singer with one recording.
---
How We Met:
Arlo's view:
After finishing my term as an officer in the US Army at Aberdeen Proving Grounds, Maryland, I decided to visit my grandparents in Florida. On the way home to St. Louis I stopped to visit a friend, Wayne, in Corinth, Mississippi. Wayne invited me to go with him to Bemis, Tennessee to attend a youth service where his girlfriend lived. That evening it was Jane's turn to speak and after the service I introduced myself. After many trips from St. Louis to Bemis we were engaged. Together we went to the Apostolic Bible Institute in St. Paul, Minnesota to prepare further for the work of the Lord. With permission we married during the Christmas holidays with our pastors W. M. Greer and Oliver Spencer officiating..

Jane's view:
For a while we had a group called Big Sisters-Little Sisters in the church in Bemis, Tennessee. Our project was to help support a Bible school student in India and one Saturday while passing flyers for a paint store, one of the girls revealed she had just found out that "there is a new guy in town!" Of course we all wanted to see him. We drove to the ball field where the guys were playing football. When I saw him I knew I wanted to meet Arlo, but I wasn't sure how to bring it about. In fact, no one even knew how to say his name correctly! Our youth group took turns speaking at the youth service, and that Saturday night it was my turn. I had prepared a simple "chalk talk" and after the service Arlo came to me, introduced himself, and commented about the lesson. I've always said he gave me pointers to improve the chalk drawing but he says he doesn't remember doing that. I was so pleased to meet him and have an opportunity to talk together that I didn't mind the suggestions. It's been many years since we married, and now we share suggestions with each other to improve our teaching.